Customise decks
From within the Library you can hit the 'new deck' button.

Alternatively, you can collaborate on decks inside a Teams Channel, Chat or Meeting
Customise decks
Start fresh or get inspired? Decide if you want to create a brand-new deck or edit a copy of an existing one.

Give your deck a catchy name.

Describe what your deck's all about.

Jazz it up! Upload a thumbnail image.

Think about visibility: Save to the Private or Public Library?

Collaboration mode: Do you want others to have editing rights?

Once you're set, click 'Next' to continue.
Customise decks
Deck Setup Form (Continuation):
Pick your suits! Choose the ones you'd like to include in your deck.

Categorize for convenience: Which categories best describe your deck?

Sharing is caring: Select colleagues you'd like to share this deck with.

Click 'Next' to proceed.
Customise decks
Random Dice: Let fate decide! Activities will appear in a spontaneous order.

Loaded Dice: Want more control? Specify the exact sequence for the activities.

Once you've made your choice, click 'Save' to finalize your deck setup.
Customise decks
If you chose to start a new deck from scratch scratch you are presented with a blank template. Start populating it by adding new activities with the + button
Customise decks
Use the provided prompts that have been carefully curated per suit to inspire and fast-track your development.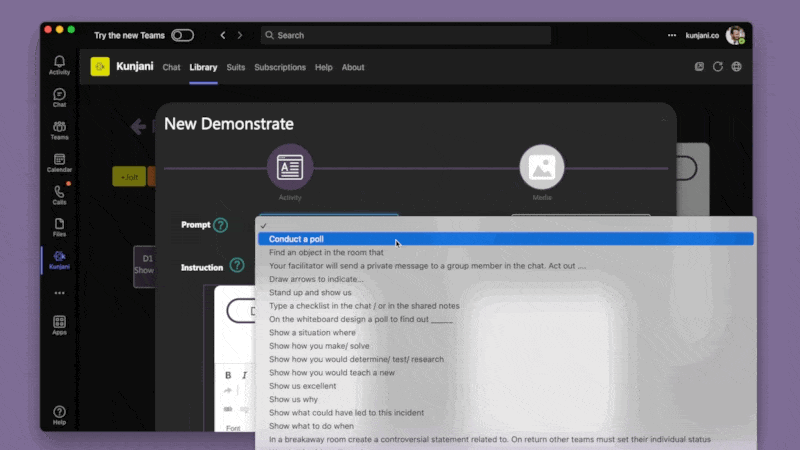 Customise decks
Complete the activity

Add a suggested answer for guidance.

Adjust the time given for the activity, in seconds.

Click "Save and next" to proceed to the next step.
Customise decks
Add Media to the Activity
To make your activity more engaging, consider attaching media.

Upload an image or provide a link to a YouTube video.

Click "Save" to view a preview of your updated activity.
Customise decks
Adjusting Activity Order (For Loaded Dice)
Want a specific order for your activities? Simply drag and drop them into your desired sequence when using the loaded dice option.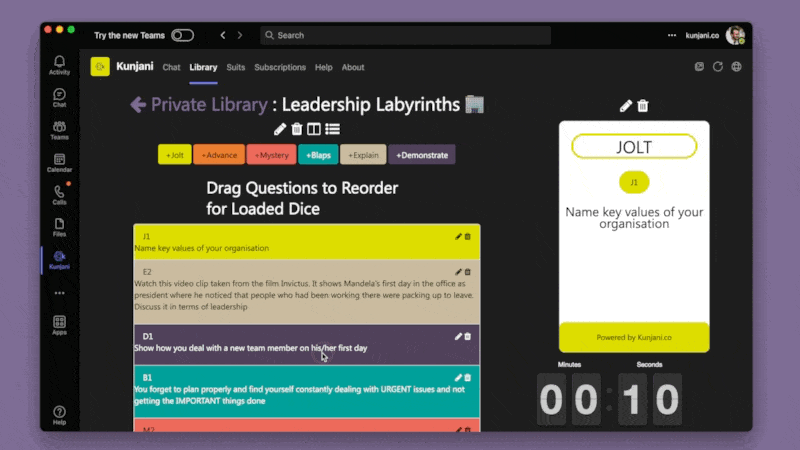 Customise decks
Collaborating on a Kunjani Deck within Teams
Open a Teams Channel, Chat, or Meeting.

Add the Kunjani app as a Tab.

Choose to share either an "An editable/previewable version of a new or existing deck".

Collaborate in real-time and enjoy the collective brainpower!